Concrete Floor Cost
PRICES OF CONCRETE FLOORS BASED ON DESIGN AND DETAIL
Concrete floors can obviously range in price based on a variety of factors such as level of detail, size of the project, prices for materials and labor in your market, etc. But beyond the variance of cost, it is possible to have unique concrete floors no matter what the size of your budget. Concrete floors are known to be economical, especially when compared to using authentic materials such as stone or slate.
So before you cover your floors with tile, linoleum or wood, use the information below to find out how decorating your concrete compares and what costs you can expect.
Note: These are only estimate square foot prices and may range higher or lower. It is best to contact a contractor in your area for a realistic price estimate.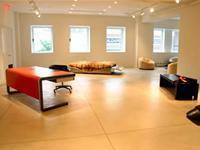 The Concrete Impressionist
Basic Cost Range ($2.50 to $5.50 per square foot)
What You'll Get:

An eye-catching, economical upgrade to plain, gray concrete.
Basic one-coat application of stain with sealer (which includes floor cleaning and masking prior to staining).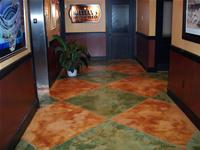 Concrete Coatings of Illinois
Mid Cost Range ($5.50 to $7.50 per square foot)
What You'll Get:

More elaborate decorative effects.
Use of two or more coloring methods.
Scored or saw cut patterns incorporated.
At this level, the competition is high-quality carpeting and relatively low-priced tile.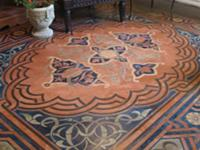 Modello Designs
Advanced Cost Range ($7.50 to $15 per square foot)
What You'll Get:

An artistic blend of techniques, patterns, and coloring mediums
Advanced stain application using faux techniques and complex sawcut patterns, stenciling or polishing.
At this price point, you are comparing against wood flooring ($8-$10 per square foot) and a range of ceramic and quarry tiles ($10-$12 per square foot).
Adding decorative sandblasting or engraving to the advanced stain application. ($15+ per square foot). The most elaborate concrete flooring options are competitive with lower-priced slate, terrazzo, and marble.
Source: Bob Harris' Guide to Stained Concrete Interior Floors