Polished Concrete Floors
GETTING SMOOTH, EASY TO MAINTAIN, REFLECTIVE SURFACES WITH POLISHED CONCRETE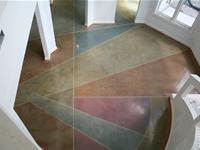 Artistic Surfaces, Inc.
More homeowners, retailers, architects and engineers are choosing polished concrete as their finished floor of choice. Aesthetics, uniqueness, ease of maintenance, and light reflectivity are a few of the reasons why this flooring system is quickly becoming one of the most sought-after hard surfaces.
Perhaps the most desirable feature of polished concrete is the endless array of decorative options available. This complete design flexibility allows the craftsman to produce stunning floors that are totally unique.
Ease of maintenance is the key reason why many warehouses and retail facilities are choosing polished concrete. Not only are polished floors easy to clean, requiring only occasional damp mopping or buffing with a neutral pH floor cleaner, they also hold up extremely well to heavy forklift and foot traffic.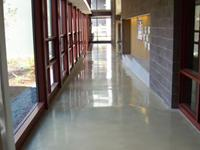 Benjamin Franklin
Elementary School
The high light reflectivity of polished concrete is another important benefit, especially for office buildings, hotels, restaurants, and other public facilities that want to project a bright, clean, professional image.
Polished concrete is also a good alternative for homeowners or businesses that can't afford marble or granite floors but want the same brilliant, mirror-like finish.
Depending on the polishing abrasives and procedures used, it's possible to achieve different ranges of polish and different levels of sheen, from matte to a wet and glassy mirror-like finish.
The choices of color, pattern and texture are unlimited, through the use integral color, stains and dyes along with sandblasting or engraving techniques. It's possible to replicate the look of stone or terrazzo by exposing the aggregate and using various coloring techniques.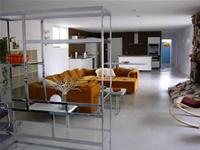 JL Designs
You can also embed objects into the freshly placed concrete and, through the sequence of grinding and polishing, expose them to create unique visual effects that can't be achieved with any other flooring material. You can further enhance polished floors by sawcutting decorative borders or designs into the concrete.
Almost any structurally sound concrete floor can be polished. But there are some exceptions.
Before polishing new concrete, you must wait until the concrete has cured to sufficient hardness (generally 14 to 28 days after placement).
Existing floors that need extensive patching or are extremely soft and porous may not be good candidates for polishing.
For badly spalled surfaces, you may need to remove the surface layer of concrete using a scarifier.
Read more about concrete polishing at ConcreteNetwork.com, and find polished concrete information at PolishedConcrete.org