Are Coloring Concrete Floors a DIY Project or Should I Hire a Pro?
DETERMINING IF YOU CAN DECORATE A CONCRETE FLOOR BY YOURSELF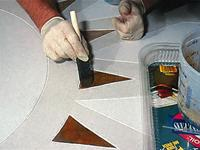 L.M Scofield
If you're considering coloring or otherwise decorating your concrete floor, there are a few things you should consider. The level of complexity of your project will mostly determine if it's something you should tackle or if you should hire a professional contractor. If you're determined to achieve a specific look, and you're not interested in trial and error, don't take any chances. A concrete contractor is more likely to be able to meet your expectations and the cost will be well worth it.
If, however, plans for your concrete floor are a bit simpler. Perhaps you're only wanting to add one color or to cover some imperfections in a pre-existing floor. There are numerous resources available to walk you through the process for staining or coloring a concrete floor. Although you should be aware of the types of products and tools that will be necessary. Acid stains can create fumes that you'll need to be concerned with. And the variety of other products on the market may require certain application techniques, etc.
Keep in mind that once you begin to color your concrete floor, there's no going back. Concrete cannot easily be ripped up and replaced. You don't get many second chances with concrete, especially if you've already applied a stain or some permanent coloring agent. If you decide to do your project yourself, be sure to begin on a sample piece of concrete. And remember, not all concrete takes to color the same, so your sample may not be the same result that you see on your final floor.
When in doubt, get some help. Contact more than one contractor so you can get various opinions on your project and more than one quote. You may be surprised at how economical your floor can be enhanced. And it's always more economical to do the project once (with a professional), than to try it on your own and have to replace or cover up your mistakes.