Restoring Terrazzo, the Venetian Way
A behind-the-scenes look at how a team of skilled craftsmen in Venice restore ancient terrazzo to its original glory

By Bob Harris, The Decorative Concrete Institute, Temple, Ga.
Recently we were asked by our friends and business partners, Luca Seminati and Mauricio Pontello of Ideal Work, to teach classes at their facility in Italy (see Decorative Concrete Provides Perfect Paving in Italy). From the time you pull up to their building and are greeted by their staff, their operation exudes professionalism. The entire team at Ideal Work spared no expense at putting on top-of-the line training sessions for their customers. Two separate two-day classes with an attendance of over 35 students were held, with a curriculum that included fabricating precast sinks using molds, fabricating countertops with specialty techniques such as the hand-pressed process developed by Buddy Rhodes, working with stains and dyes, polished concrete and microtopped furniture.
Some of the oldest floors in Venice still look incredible today.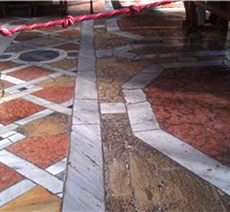 Another amazing marble floor.
In attendance at the first class were brothers Stefano and Marco Vianello, who own a terrazzo restoration company in Venice, my favorite city in the world. During class, Stefano overheard me saying what an inspiration Venice is for us and that we would be staying there for three days at the conclusion of the week's events to absorb the local culture, flavors and architecture. Through a translator, Stefano asked if he and his family could give us a behind-the-scenes tour of their city. Of course, we said that we would be honored. Little did we know that this tour would end up being one of the most memorable experiences we've ever had in all of our travels to Europe.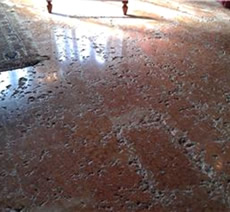 Age and exposure have taken their toll on some of Venice's marble floors. This one is deteriorating from exposure to saltwater.
After a great week of training at the Ideal Work facility, we said our goodbyes and then my wife Lee Ann and I boarded the train to Venice with luggage (and tools) in tow. Stefano's wife Gabriella called us to arrange to pick us up by boat at a nearby canal located close to the hotel where we would be staying. The family actually lives on a canal in the heart of the city and all of their travel is by boat. They have four boats, three of which are used to haul their workers and terrazzo supplies and equipment.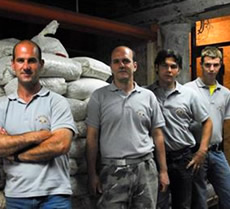 The Vianello Pavimenti team.
On Saturday morning on a small waterway located just off the Canal Grande we were picked up at 9 a.m. to start our tour. The first stop was a college for music and arts, where Stefano had done major marble restoration. It was amazing to think that their job was to match marble more than 500 years old using locally available materials and modern-day tools and techniques. They showed us areas that had been fully restored and others that were in the process of being restored. After 10 or so stops during the day, with each one being equally as impressive as the last, the tour came to a close. That evening, Lee Ann and I talked about the incredible day and discussed the many similarities between terrazzo restoration and what we do in the decorative concrete world in terms of repairs and trying to blend patched areas. The ultimate goal of both applications is to blend the repair so it's virtually unnoticeable to the untrained eye.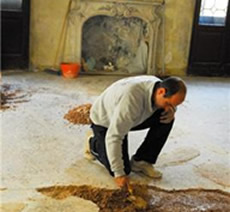 Stefano patches and refills a deteriorating area of terrazzo flooring.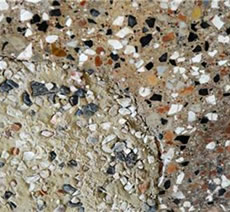 A close-up of a patched area, before honing and polishing. Note how closely the marble chips match the existing flooring.
After several days on our private tour, the one thing that stood out and became the most apparent was the Vianello's deep love of the city and their craft. It was truly refreshing to see a group of such skilled craftsmen that went well beyond just taking pride in what they do. I was so inspired by their work and way of life, I asked if they would write about their experiences in concrete restoration. Here are their responses to my questions.
How did you get into the terrazzo restoration business?
In Venice in the past, there were only a few families that have traditionally handed down to their sons the art and secrets of the masters of terrazzo. These families have been for years the most important companies in the business of terrazzo in Venice. Stefano started as an apprentice to one of these major companies. For 10 years he had the opportunity to work in the most important historical buildings in Venice with a master of terrazzo, who shared his knowledge and trade secrets. At the age of 24, he and Marco decided to set up their own business, with the enthusiasm and the propensity to update and grow the art.
What are some of the biggest challenges in your profession, especially working in Venice?
The major difficulty working in Venice is transporting supplies and materials to the warehouses and equipment and materials to the final building site. In Venice, there are few sites where you can install cranes, and it is prohibited to use forklifts for the transport of raw materials. Everything is transported by boat and manually. Another difficulty lies in not being able to use big machines because the houses where we work cannot sustain the vibration that some industrial machinery can transmit.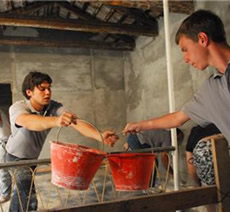 Bucketing in the terrazzo mix. Most materials in Venice must be hauled by hand.
A challenge for our company has been capturing the segment of the market dealing with the restoration of the ancient. Our achievement of this goal has been confirmed by the preference the authorities grant us in the restoration of historical buildings (such as the Conservatorio Benedetto Marcello, the Marciana Library, and the Franchetti Gallery Ca' d'Oro) using the new techniques we propose.
When you took us on a tour, Stefano demonstrated dropping a coin on the old terrazzo and the newly restored terrazzo. The coin did not bounce on the old but did on the new. Can you explain why?
The old floor is made with lime (calcium), a material that is much more flexible than modern cement. This material absorbs the impact and the coin doesn't bounce. The cement, owing to its rigidity, rejects the strength of the coin and makes it bounce.
How competitive is your line of work in Venice?
Venice is a historic city and most of its floors are marble or terrazzo. In the early 1900s, the use of laying tiles began to spread because the materials are cheaper and easier to install and do not require a particular specialization, in contrast to installing terrazzo. Today there are two kinds of terrazzo "products": restoration (often imposed by the authorities because existing terrazzo is protected) and the laying of the new. The latter is returning to the market because the cost difference with other products is no longer so much. If clients can choose between tiles and terrazzo, more often they choose the terrazzo because it's unique and enhances the value of the property. Therefore, in both cases we are providing a very competitive product. New technological solutions, such as microtopping, allow us to propose a viable alternative to terrazzo where depth is a problem. Every restoration in Venice that requires demolition sees the final costs rise dramatically. For that reason, where terrazzo is not feasible, many customers choose microtopping to avoid demolition.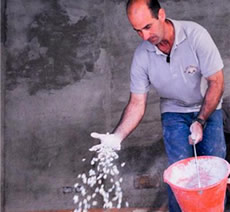 Stefano broadcasting the marble aggregate over the base, taking care to distribute it evenly.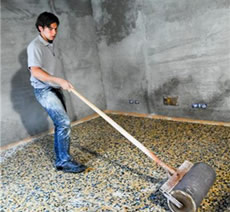 Rolling and compacting the aggregate.
Do you see decorative concrete applications ever being accepted in Venice, and if so, what is the process to get new materials approved?
Today in Venice, concrete has only structural applications. We do see decorative concrete becoming a viable alternative to current products and techniques, but in the historical restoration side of the business, it is not accepted. However, we have recently submitted different options.
How difficult is it to match colors and aggregates so that the restoration blends?
Especially in the restoration of antique floors, the first difficulty is to identify the original materials or others as similar as possible to the latter. Some marbles are depleted or change color and grain; other products such as limestone are unavailable because they are no longer produced. The experience acquired over time by the laborer is of primary importance. The execution of a restoration is an art that requires practice. We cannot study in books. The skill is handed down from masters to apprentices and terrazzo workers. Only a particular color-heightened sensibility allows you to reach optimal levels of fusion between the restoration and existing floor.
Explain, from start to finish, the process and equipment used to produce terrazzo floors.
We proceed with the application of a skim coat of marble composed of a mixture of lime or cement, marble powder with granules, and colored earth oxides. This is the base on which you spread marble chips. The mixture is determined for the customer based on color and aggregate size requirements and prepared by hand. The marble chips are cast manually by seeding immediately after the application of the base skim coat. At this stage, it is crucial for the laborer to regulate the quantity of marble to get the required coverage. Following the seeding process, a roller made of stone or iron is used to embed the grit into the skim coat. Another skim coat is spread to fill any holes and then washed in by hand with small sorghum brushes. After about 15 days, the floor is ready to be smoothed repeatedly with sanding machines. The different steps of polishing with abrasives makes a polished floor.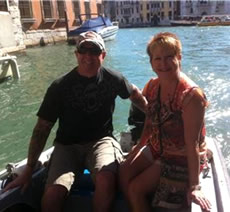 Bob and Lee Ann on a ride through the canals of Venice.
Our last day in Venice was capped off with a visit to the Vianello's showroom, where I noticed one of my all-time favorite books "Pavimenti a Venezia," or Floors of Venice. After mentioning this to Stefano and Gabriella, they asked if I would like to meet the author, Tudy Sammartini, since she was a personal friend. A five minute walk later, we were at her house and we got to spend quality time with Tudy, a very interesting and wonderful lady.
Pinch me, I've died and gone to heaven via the streets and canals of Venice!