Glossy Concrete Floors vs Matte Finish
Choosing the Right Finish for Your Concrete Floor
By Anne Balogh, ConcreteNetwork.com columnist
When planning the look of your concrete floor, you have a lot of important decisions to make. What color scheme will work best with your décor? Do you want it graphically enhanced with a stencil or pattern? Do you want to give your floor a decorative border? Your final decision, and one of the most important, is the gloss level of the sealer you apply to the finished floor.
As when choosing between flat, semi-gloss, or high-gloss paint for your walls, you'll need to think about the degree of shine that's right for the room and the look you're trying to achieve. Some products, like penetrating sealers, leave little or no shine. Others, such as high-gloss acrylics and epoxies, will make floors as shiny as polished marble or granite. Even with polished concrete floors, which generally don't need a sealer, the gloss level can vary from moderate to high. To help you visualize your options, here are some examples of what the various finish levels look like in a variety of settings.
Glossy floor finishes
If you're after a wet look to enhance the appearance of colored finishes or to create greater light reflectivity, choose a sealer or a polished floor finish with a medium- to high-gloss sheen. See these examples: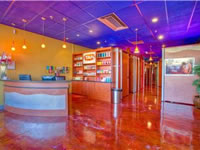 Custom Concrete Solutions, West Hartford, Conn.
Salon Floor Glistens Like Copper
Products used: High-solids clear urethane followed by three coats of a super-high-gloss finish wax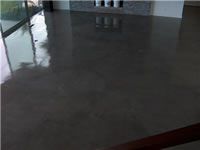 Colors on Concrete, Upland, Calif.
Microtopping Looks like Polished Concrete
Product used: High-gloss urethane sealer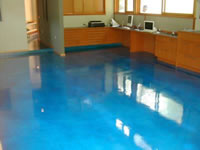 Concrete FX, Agoura Hills, Calif.
Ocean Blue Concrete Floor
Product used: Wet-look acrylic sealer
Matte floor finishes
A matte finish gives concrete floors some light reflectivity, yet won't overpower the area. If you're after more subtlety and warmth, this type of finish is your best choice. Check out these projects.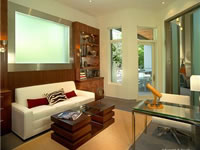 Concrete-N-Counters, Tampa, Fla
Green Home Uses Concrete Throughout
Product used: Impregnating sealer and densifier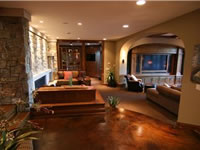 Concrete Arts, Hudson, Wis.
A Game Room Floor Gets a Winning Surface
Products used: Water-based acrylic followed by a matte-finish floor wax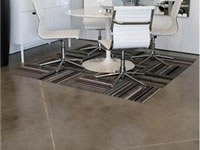 Life Deck, San Diego, Calif.
Urban Chic: A Concrete Floor Gets a Modern Makeover
Product used: Neutral low-sheen epoxy